UPDATE : Osun West Decides!! Final Result Released From 10 LG.See The 8 Reasons Why Osinbajo May Have Visited President Buhari In UK
GC
Posted On: Jul 12, 2017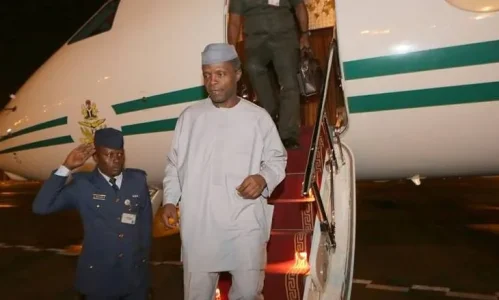 The purpose of the meeting and issues being discussed have not been made public, there is speculation in has to do with the development of the country.
Some of the reasons that may have prompted the acting president to make the London trip after the first lady came back from similar trip.
1. Visiting the president after news of improved condition
The acting president Osinbajo may have gone to visit the president after the first lady Aisha Buhari brought back news of the president's improved condition. This will also be the first time Osinbajo visited President Buhari during the latter's first and second medical travel to the UK. This is also an opportunity to check on the president's health.
2. The face-off between the Senate and Presidency
The acting president may have also traveled abroad to meet the president to intimate him of the growing disconnect between executives and legislative arm of government. Emphasis will be placed on the Magu issue amidst other point of contention.
3. The issue of Aso Rock cabal
Acting president Osinbajo might have also gone to report the Aso Rock cabals to the president. Some highly placed individuals identified as Aso Rock cabals have been allegedly working to undermine the influence of the acting president and subsequently undermining the smooth running of governance in the process.
4. General situation of things in Nigeria
Another likely reason why the acting president may have gone to visit President Buhari is to inform him of the general situation of the country. Osinbajo will likely tell him about the economic situation and the ongoing social intervention scheme.
5. 2017 budget
The acting president in his visit may likely speak to President Buahuri on the implementation of the 2017 budget which was passed in his absence.
6. Biafra agitation
The acting president may have also gone to intimate the president about the state of things in the agitation for Biafra embarked by some people in the south eastern part of the country.
7. Restructuring of Nigeria
Like Biafra, the agitation for the country's restructuring is gaining momentum as many Nigerians are now openly calling for restructuring of the country. Acting president Osinbajo may have also gone to inform the president on the development.
8. Boko Haram/ Fulani herdsmen
The acting president may have also gone to inform the president on the current state of things as regards the fight against insurgency in the north-east part of the country and also the Fulani herdsmen trouble ravaging some part of the country.
According to an official information provided by the Aso Rock Villa, the acting president was in UK on Tuesday, July 11, and will be returning back to Abuja same day.
On This Post:

Share it Let Friends Know