GC
Posted On: Oct 31, 2017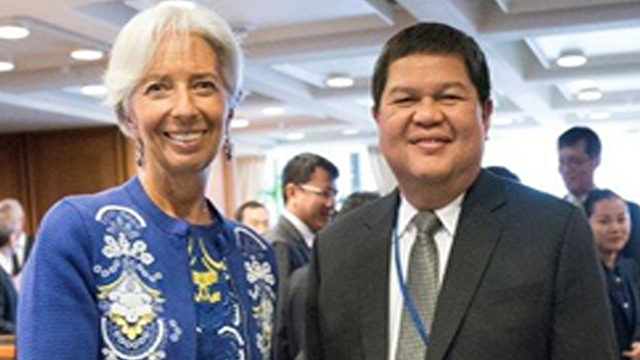 SHARED RESPONSIBILITY. The Philippines vows to contribute to the stability of the international monetary system given its sound macroeconomic fundamentals. In the photo are BSP Governor Nestor Espenilla Jr (right) and IMF Managing Director Christine Lagarde. Photo from BSP
MANILA, Philippines – The Philippines again signed a $1-billion loan facility with the International Monetary Fund (IMF), committing to help countries going through financial troubles and in effect, minimizing the probable impact on the world's macroeconomic fundamentals.
Bangko Sentral ng Pilipinas (BSP) Governor Nestor Espenilla Jr said on Monday, October 30, that the central bank has renewed the loan facility that expired last September as part of the Philippines' commitment to strengthen the global financial safety net.
"Said financial facility was never drawn and the agreement expired in September 2017," Espenilla said in a statement.
Seeing it as a shared responsibility, the Philippines decided to extend the loan facility, which was first signed in 2013.
The BSP said this is part of the Philippines' commitment to contribute to the stability of the international monetary system given its sound macroeconomic fundamentals and strong external position.
From borrower to creditor
The Philippines had been an IMF borrower for almost 45 years, then eventually fully paid its loans in December 2006.
It became a net creditor in 2010 under the Financial Transactions Plan (FTP), which allows foreign exchange contributions to be used to provide financial assistance to IMF members.
In 2011, the Philippines lent more than $125 million to ailing European economies.
Latest data from the BSP showed that the Philippines' gross international reserves (GIR) stood at $81.35 billion as of end-September, which is enough to cover about 8.5 months' worth of import of goods and payments of services and income.
The central bank's Monetary Board has already lowered the GIR target to $80.5 billion, equivalent to 8.2 months' import cover, instead of $84.7 billion, equivalent to 8.8 months' import cover for 2017.
On This Post:

Share it Let Friends Know