You are here: Home › General › News › Grenade Scatters Eyes Of Soldier Fighting Boko Haram (Disturbing Photos)
GC
Posted On: Mar 15, 2019
A serving Nigerian soldier named Omasan Greg Futughe(Nms 94/3072,Army No: 00NA/94/1110 Unit : 27 taskforce brigade Buni Yadi) deployed to northeast for Operation Lafiya Dole precisely to 27 TF Bde Buni Yadi was involved in a horrific accident.
A blast of rocket-propelled grenade(RPG) impacted his eyes. He was in a critical condition and was transferred to Damaturu.
He was later referred to 7 Div Military Hospital Maiduguri and then to University of Maiduguri Teaching hospital after which he was transferred to 44 Military Hospital in Kaduna.44 Military Hospital later referred him to Thelish Hospital owned by Indians.
According to reports,he needs a cornea implant to save his sight. The accident buried hot sand and debris in his eyes. The right vision is gone but the left eye is cloudy and out of focus.
The grand idea is to quickly salvage the parts of his eye that are still working. The opthalmologist told him that depending on his body system,he has about 2 -3 weeks to do the surgery or else there will be no need to do the surgery again.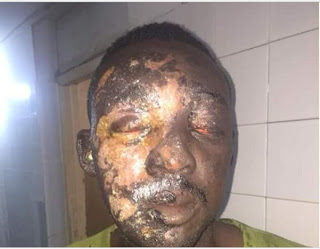 According to them,they won't start the process unless payment is made because of their past experiences with the army. He was advised to raise funds as army paperwork takes time ( when if they respond, it might be too late).
He needs a total of N2.6m for the surgery and his mates have been able to raise N585,000
On This Post:

Share it Let Friends Know