Incredible: Meet The Amazing Twin Sisters Breaking The Internet With Their Jaw-Dropping Flexibility (Photos)
GC
Posted On: Apr 05, 2018
hese stunning acrobatic twins are taking social media by storm with 1.8 million YouTube subscribers.
Teagan and Samantha Rybka, 22, share their incredible talent of flexibility and rigorous six hour-a-day training regime online.
The bendy duo, from Perth, Australia, started acrobatics at the age of three with the help of their mum, also an acrobat.
Samantha spoke about the formative years that started the girls on their journey to prime time Saturday night television, after they appeared on Season 7 of Simon Cowell's Australia's Got Talent.
She said: 

[i]"We have been doing acrobatics since we were three years old and dancing since the age of six.[/i]
[i]"Neither of us were born naturally flexible in the back or legs, but our mum inspired us as she was an amazing acrobat when she was younger.[/i]
[i]"She shared her passion with us and taught us loads of acro tricks at home. With her help, that of our teachers and our own determination to get better we both worked slowly and gradually on our flexibility and technique everyday through the years.[/i]
[i]"We have constantly use each other as healthy competition, if one got a new trick, the other one would keep practicing over and over until they got it too, we always wanted to do the exact same tricks!"[/i]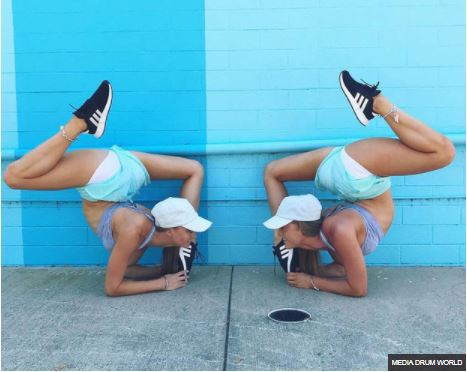 After years of painstakingly perfecting their craft, which also incorporates dance, the twins got their big break in 2013, when they made it to the Australia's Got Talent semi-finals and have since gone on to travel the world to perform.
Teagan said: 

[i]"Australia's Got Talent definitely kick started our career.[/i]
[i]"Our audition was broadcast on TV all around the world and then on YouTube where it has collected 18 million views![/i]
[i]"It helped people find us and discover what we can do, we then kept showing our talent on social media and eventually our own YouTube channel.[/i]
[i]"Being on YouTube has given us a lot of exciting opportunities to travel to many different places and meet so many interesting people including the cast of the cult TV show, Dance Moms."[/i]
Teagan discussed how her and her sister's relationship has developed as they have got older and the work that goes in to maintaining their bendy bodies.
[i]"We are super close and have only just got our own rooms after sharing a room for 21 years,"[/i] she added.
[i]"We have always done everything together, same school, same dance classes, same university degrees and same jobs!"[/i]
The sisters even have the same hobbies, fashion sense and likes.
Teagan added: 
[i]"There is hardly a moment when we aren't together, and we wouldn't have it any other way.[/i]
[i]"We definitely weren't born flexible although everyone assumes we were as they just see us as we are now.[/i]
[i]"They didn't see the hours and hours of hard work and dedication to stretching. We have also worked towards being contortionists meaning we were constantly pushing our boundaries every day.[/i]
[i]"We have a set six-hours per-day where we go to train at a studio for dancing and acrobatics, but we also put in more hours at home, trying new tricks and perfecting old ones.[/i]
[i]"We search for stretching tutorials online or make up stretches that we feel really work for us. We try so many different ways and methods and have to make sure we keep doing them until we reach our flexibility goals."[/i]
Samantha described the reaction they get to what they do before passing on her advice to anyone looking to take up something similar.
She said: 

[i]"Most of the time people are pretty freaked out at what we do, especially if we do something really bendy.[/i]
[i]"If we are taking a photo or filming a stunt in public lots of people stop to watch and start taking pictures too.[/i]
[i]"We perform in big shows, corporate events, parties and weddings as well as performing to the world by posting weekly videos to our YouTube channel.[/i]
[i]"We couldn't be more amazed or appreciative of every single one of our subscribers, we are so thankful and absolutely love to know that what we are doing is making people smile and be happy."[/i]
Now she's encouraging others who are looking to take up the sport to be safe.
Samantha explained: 
[i]"I'd advise anyone looking to take up acrobatics to train safe. Slowly and gradually listen to your body and don't give up, keep going and believe in yourself![/i]
[i]"Remember that nothing is a failure if you are willing to give it a go and give it your best shot in the first place. Every fail or mistake is a learning curve and chance to reflect about what you need to change or do to improve.[/i]
[i]"If you have discipline, drive and determination nothing is impossible, and the possibilities are endless."[/i]
On This Post:

Share it Let Friends Know