Check Out The List Of Exciting Projects That Would Drop This February, Anticipate! - 6 months ago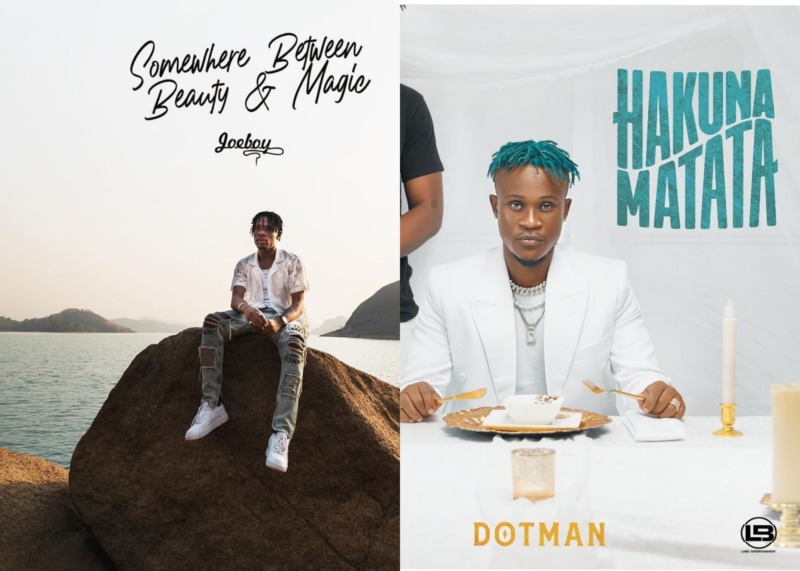 January has gone, February is Here! And your favourite artistes would be dishing out new singles and projects to kick start 2021 officially
Below are some of the top projects and singles that would be dropping this month of February, Get familiar and Anticipate!
JOEBOY's Debut Album
Joseph Akinfenwa is an award winning Nigerian afropop-artiste, popularly known by his stage name, Joeboy. The emPawa Africa signee, with hit songs from his love and light album in 2019 "Baby" and "Beginning" which is not only considered as a hit , but a must play at every Nigerian wedding. These songs did not only prepare him for stardom, but also gained him lots of fans.
Joeboy is known for his unique love tunes and also for his Love of visualizers. According to the singer, it helps in passing his message across. Apparently Joeboy isn't the only one with a thing for Visualizers, his fans equally love it as many of them kept reposting the visualizer of "baby".
The young afropop artiste since then has been working on other projects. He recently announced his new debut album "Somewhere Between Beauty & Magic" which he would be dropping on February 4th, 2021.
On the 1st of February, via instagram, Joeboy dropped the tracklist of his debut album, "Somewhere Between Beauty & Magic". The songs on the album include: Count Me Out, Focus, Number One, Police, Door, Show Me, Runaway, Lonely, Consent, Oshe, Oh, Sugar Mama, Better Thing, Celebration. This album is produced by Beatsbyko, MOG, BIGFISH, MEX FLAIRZ, KELLY, DERA, SEMZI, TYPE A, TEMPOE and KILLERTUNES. Fans are waiting for his beautiful and magical album as he assures them, "It's beautiful and certainly amazing". Let's see if it's worth the wait.
BANKY W's New Single
Nigeria's Mr Romantic, Olubankole Wellington, Popularly known as Banky W and Bubba by close friends and family will be making a music return this month with a new single. The song writer made this announcement via his social media account, where he said he is going to drop a new song and new video titled "Final Say", this February. The forthcoming song "Final say" is produced by Cobhams Asuquo who is also a songwriter and singer. Mr W is well known for his romantic songs and lyrics such as "Made For You" which he wrote for his Wife and "All I Want Is You" featuring Chidinma. Fans are equally expecting this song to be a love song due to its release falling in the month of love, February and some are hoping it will be released before valentine's day.
In 2019, the R& B singer had to put a halt on showbiz to focus more on politics, making fans more anxious for the release of this new single.
The singer also revealed that he has a new album "The Bank Statement" in the oven and he is working with Cobhmas Asuquo on it. He made this announcement via his twitter and Instagram account and we can't wait for it as he promises it to be one of their best work ever.
PEPENAZZI's New Album
Following the success of his first album " My Coat of Many Colours" and hit song "illegal " in 2015, Afropop Artiste, Pepenazi, has returned with his sophomore album titled "Zerubbabel".
Pepenazi is known for his unique style of singing and use of biblical terms and references in his songs. According to the song writer, he named his album Zerubbabel based on the story of Zerubbabel in the bible and also based on his personal experiences. He said the Keyword given to him by God, " it's not by Power, it's not by might', by the spirit says the Lord" Kept ringing in his mind as he walked on the album.
The album is produced by Opeyemi Kayode and Jamine Kayode. The official release date for the album is the 3rd of February. The song writer revealed his album tracklist of 12 songs on 27th of January,2021. The album features artistes like; Praiz, Eclipse, Lano boy, Super Wozzy, Trod, Andremaos, Magnito and QDot. This Album promises to be Inspiring and motivating, don't miss out.
DOTMAN's 'Hakuna Matatta' Album
Nigerian singer-rapper, Olatunji Oladotun Alade, popularly known as Dotman has revealed the release date for his new album, Titled "Hakuna Matata".. The Yoruba born singer who is known for his hit song, Akube in 2016, announced via his social media account that his new album will be out on the 5th of February, 2021. Dotman who has long been working on songs for the album refreshed our ears/playlist with Tonight on the 29th of January and the song has since been trending on the internet . The single "Tonight" is also a part of his album collection.
This will be Dotman's first album after leaving his previous Management to join Labo Entertainment in 2020. Dotman revealed the album's tracklist of 17 tracks via instagram which include: Pele, Chop Life, Mind, Awe, Hakuna Matata, Number One, Enter My Soul, Enu Gbe, Let It Go, Feelings, Tonight, Giveaway, Shuga, Mama, Duro, Frenemies and Blessed.
Hakuna Matata Album is produced by Olabisi Akanbi, Cobby Dollar, Cortes Beats, Lush, Ckay Yo, ID Cabasa, PAQ, Kentee, Maraqaii, Fresh VDM and Boys2shirtz. If you enjoyed listening to Akube, this album is definitely for you because Dotman is back with fresh and lively tunes.
BODE BLAQ's 'JOURNEY' EP
Year 2020 might have been a bit rough around the edges across the globe but fast-rising Nigerian artist Bode Blaq is having none of that as he is set to debut the new year on a bright and super amazing note
with the release of his anticipated EP titled 'Journey' come February 5, 2021.
No doubt Ogungbemi Olabode Stephen, popularly known as Bode Blaq has carved an enviable niche for himself as a versatile and multi-talented songwriter, rapper and recording artist since he forayed into the music industry a few years back with "Worry Dem", his first official single. Bode Blaq's rare mix of hip-hop, Afro-rap/pop subgenres have merged into a distinct sound that has produced smash hits -like "Owo Mi Da" on which he featured Qdot-Alagbe, "Rebezuka" which features Idowest and Trod. an impressive 8 track mixtape ISOKUSO VOL 1, his first body of work released in 2019.
With an array of 9 singles and 8 official music videos under his belt since his career kicked off in 2017, Bode blaq has continued to spread his melodious tunes by embarking on a successful Uk tour August 2018 and also bagged an MSC in marketing communications from the School of Media communications, Pan Atlantic university in 2019.
Journey EP, Bode Blaq's second body of work, encompasses a blend of rhythmic supersonic sounds ranging from rap,pop to afro/alte vibes, intellectually appealing and sonically beautiful songs that burst with life.
Bode Blaq enlists support from industry colleagues with masterful verses from artists like; Dremo, Wale Turner, Kabex, Jaido P , Davolee and producers like Whalez, Damayo, Tuzi etc. It's safe to say The Journey EP is Bode Blaq's artistic progress report and he sure can't wait to have it assessed by his numerous fans both locally and internationally come February 2021.
CKAY's 'BoyFriend' EP
Chukwuka Ekweani, known publicly as CKay is the rising star in the ever-burgeoning Afrobeats scene. A multi-talented artist, whether behind the boards as a producer or in front of the mic performing his self-penned songs, it is CKay's single-minded vision that shines through.
2019 saw the launch of his debut EP 'CKay The First' on which his future break-out hit 'Love Nwantiti' was
the centerpiece. In 2020, that single was featured on Diddy's TeamLove.com Danceathon raising relief funds during the COVID-19 pandemic. August of this year saw him drop a series of remixes of 'love nwantiti' featuring friends from around the World – Elgrande Toto from Morocco, Franglish hailing from France, and US latin star De La Ghetto among them.
November 2020 saw a culmination of sorts – a feature and co-production credits on Nigerian superstar Davido's 'A Better Time' album alongside Lil Baby, Sho Madjozi, Nicki Minaj and more.
CKay is now ready to share his own new music with the World as he readies the release of his sophomore EP due early 2021, with the 1st single, 'Felony' and a follow up lead single to the EP, 'Kiss Me Like You Love Me'. The 'BoyFriend EP' houses 7 tracks and features; Amaree, Oxlade, KiDi and Bianca Costa. Anticipate!
PERUZZI's 'Rum & Boogie' Album
DMW's R'n'B and Pop singer Peruzzi (Peru Vibes) would be dropping his highly anticipated album 'RUM & BOOGIE' this February.
The body of work which will be his Second studio album has 15 tracks with 2 bonus tracks and features the likes of Davido, Wande Coal, Fireboy, Teni, Patoraking, Phyno, Tiwa Savage, Dremo, and Idowest.
Taking to his Instagram page, Peruzzi revealed that he started working on the project 13 months ago and also thanked his label mates and the featured artistes. He wrote: " THANK YOU JESUS FOR THE STRENGTH TO COMPLETE THAT WHICH I STARTED CREATING 13 MONTHS AGO, FOREVER GRATEFUL TO EVERYONE THAT PLAYED A PART IN MAKING THIS POSSIBLE, EVERY ARTIST FEATURED, GOD BLESS YOU AND I CANT THANK YOU ENOUGH FOR COMING THROUGH HEAVY FOR ME!!! GOD BLESS YOU AND YOURS.
TO MY LABEL MATES AND GANG, I HOPE I MAKE YOU PROUD WITH THIS ONE COS YALL DESERVE NOTHING BUT THE BEST FROM ME. THIS IS THE POINT WHERE WE FOCUS ON THE SWEET SIDE OF LIFE, POSITIVE VIBRATIONS AND GREAT ENERGY!!! I'M DONE TALKING, IM DONE FIGHTING, DONE CRYING, ITS TIME TO BOOGIE !!! MY NEXT ALBUM GUYS & ITS TITLED "RUM & BOOGIE".
Be The First To Comment
Search Below
Suscribe
Receive our latest updates, songs and videos to your email. We promise we do not spam.