Tonto Dikeh Shades Bobrisky, Days After He Defended Her - 5 months ago
Although Tonto Dikeh and Bobrisky are rumored to have fallen out of their friendship, Bobrisky however celebrated Tonto Dikeh's son, King Andre when he marked 5th birthday a few days ago
He also defended her during marriage scandal with her ex husband, Churchill and Rosy Meurer.
The mother of one, while warning brand owners who want to promote their brands on her page, insinuated that she's not the type of person who would bring herself down to start dancing with the product, just like Bobrisky.
Although, she didn't bluntly call out Bobrisky, her post is perceived as a shade to Bobrisky who is known for putting up all sorts of gimmicks including dancing when advertising a product.
"When you come to my dm for #Ad placement #Infuencing or #GiveawayAd and I tell you My Price, You Go WELL ABOVE IS THE REASON FOR THAT PRICE
WITH THAT BEEN SAID IF YOU ARE LOOKING FOR AN INFLUENCER THAT WILL DANCE WITH YOUR PRODUCT, that's not me.. #THIS IS GOOD FOR BUSINESS #FEELFREETOSLIDEINMYDM
#45,627,953MILLIONIMPRESSION", she wrote.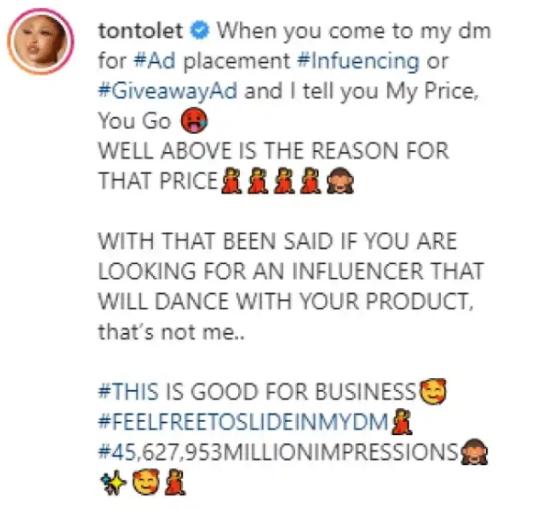 Be The First To Comment
Search Below
Suscribe
Receive our latest updates, songs and videos to your email. We promise we do not spam.