Actress, Angela Eguavoen calls out those who misbehave at work after sleeping with their boss - 4 months ago
Nollywood actress and fashionista, Angela Eguavoen blasts ladies who treat their colleagues less because they are having a sexual affair with their bosses in their workplace.
She addressed these sets of ladies via her Instagram stories as she identifies them as "trash personified".
According to Angela, it is important to keep your affairs discreet especially when it's with somebody's husband.
She wrote;
"If you are one of those people that feels it is okay to start misbehaving, treating your colleagues at work with so much disrespect, looking down on everybody and handling your official duties nonchalantly because you are digging the boss at your work place. My dear, You are Trash Personified! Coo your damn job well and stop letting whatsoever personal stuff you have with the person in authority get in your head. Keep your affairs discreet, especially when it, someone else, husband/wife. Common freaking sense and manners is so essential in life. People are watching and they aren't fools".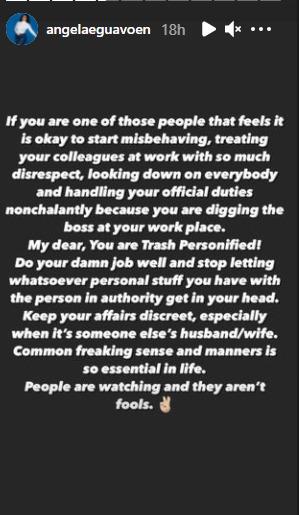 Be The First To Comment
Search Below
Suscribe
Receive our latest updates, songs and videos to your email. We promise we do not spam.