"Respect your masculinity and shut up" – Uche Elendu slams harder against Benedict Johnson over bestie saga - 4 months ago
Actress Uche Elendu in a recent post has shown that she isn't backing down as the saga over bestie issues between her and Benedict Johnson heightens.
The actress had reacted at those in her industry, @Doris Ogala and @Benedict Johnson who had tagged her as a best friend to them.
Following the video made by Benedict saying Uche's Post was indirectly pointing at him and has decided to let the sleeping dogs lie, Uche has debunked being a best friend to him.
In her words;
"It's really good to know some extinct people are only relevant when they are associated with my name. Who are those ones calling my name oooo? Who made these people my besties? Heeley Benedict Johnsin don't be unfortunate, you were never my bestie. So, shut up and face your family. I said my besties girlfriends, are you not a married man with kids??? My bestie is single. Please respect your masculinity and shut up.
Ana akogheri… The fighter and the fightee dey ground like this, the object dey for up… ewoo wahala no too much like dis?? Bestie be like motor wey woman dey drive, na start and go… v0000000mmm"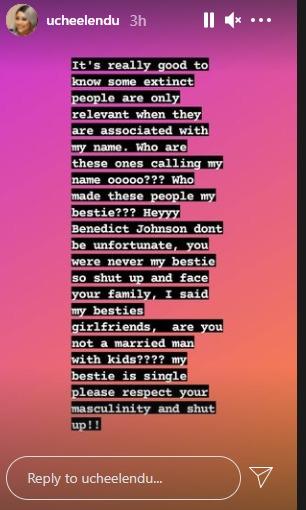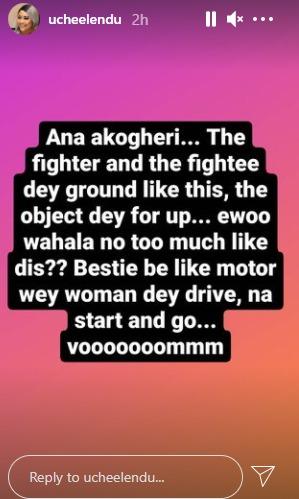 Be The First To Comment
Search Below
Suscribe
Receive our latest updates, songs and videos to your email. We promise we do not spam.