Nina Ivy loses endorsement deal for undergoing plastic surgery - a month ago
Popular brand influencer, Nina Ivy is relieved of her ambassadorial deal with an organic body enhancement brand following her plastic surgery procedure.
It would be recalled that the screen diva made a post with her doctors before undergoing a body enhancement surgery some days ago.
In a now-deleted post, the brand with which Nina Ivy was once signed made a public disclaimer that the reality star is no longer on their team.
"Disclaimer: @mav_herbals has canceled all further contacts with the celebrity influencer @nina_ivy_. Her products are and will always be 100% organic and effective. Signed management @wynerztalent," it wrote on their Instagram page.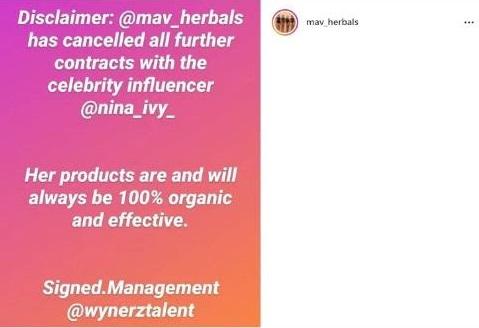 Be The First To Comment
Search Below
Suscribe
Receive our latest updates, songs and videos to your email. We promise we do not spam.