"We are our own problem" – Toke Makinwa tackles Nigerians who are quick to call women "old" - 4 months ago
Media personality and entrepreneur, Toke Makinwa has expressed her concerns on how Nigerians are quick to shame women with age.
Toke took to her Instagram stories to tackle Nigerians who shame women who are above 30 years old.
According to the, most Nigerians are quick to "age-shame" Nigerian women but they are also quick to adore the likes of Jlo, Kyloe Kardashian, and Kim Kardashian, despite that they are almost 40 or heading to 50 years.
She wrote;
"This is a 37-year-old woman, Kim is 4o Nobody calls them old. Nigerians are quick to age you and shame you with Age.
Nigerians with the constant "You don't know you're almost 40", Like 40 is a plague, Yet they see Jlo at 50 and all the comments you see is "wow". We are our own problem"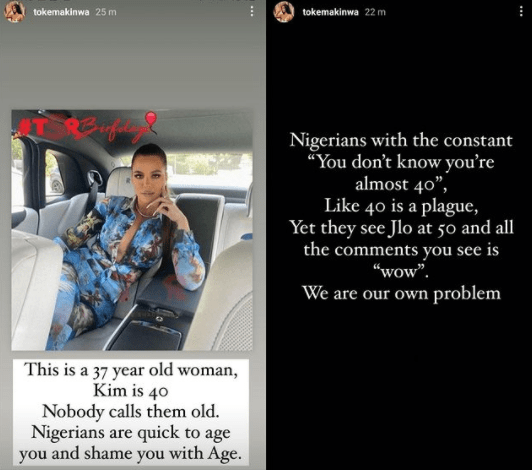 Be The First To Comment
Search Below
Suscribe
Receive our latest updates, songs and videos to your email. We promise we do not spam.