"Switch to weed" – Reactions as Samklef says he quits his habit of smoking cigarettes (Video) - 3 months ago
Nigerian music producer Samuel Oguachuba, popularly known as Samklef has left Nigerians in shock as he officially quits smoking cigarettes.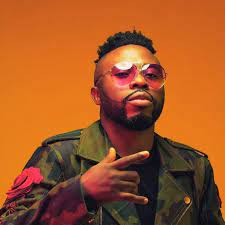 In a video shared, he was seen addressing the inanimate object (cigarette) before he buried it as he was heard saying that it's over between him and his smoking habit.
He took to his Instagram page to also write;
"Na like 4 to 5days ago I stop cigar. Toxic relationships Na him a hard pass for this life. So I made up my mind cause everything happens in your mind. Now I'm free from all toxic relationships. Rip cigar once more".
"Rip cigar. The last 3cigar.. I will never see u again. U kept coming back to my life. U came as Benson switch, as Carmel, It is over now. I finally! Finally separate myself from u".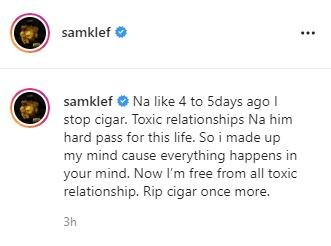 Watch the video:
Be The First To Comment
Search Below
Suscribe
Receive our latest updates, songs and videos to your email. We promise we do not spam.